Pedestrian Swing Gates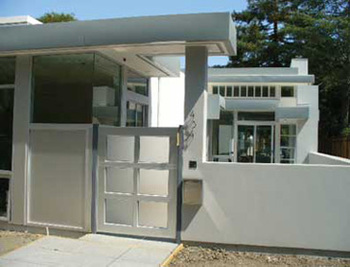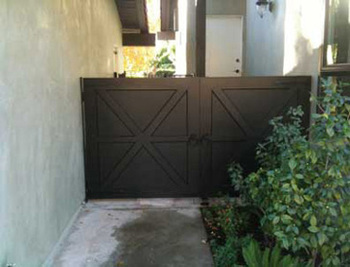 Northwest Door custom aluminum swing gates add an architectural flair and enhanced value to your property by having an entry gate designed and constructed to match the critical elements of our all aluminum Modern Classic or Infinity Classic garage doors. Our gates are lightweight and strong, thanks to the patented aluminum paneling with a thermal plastic honeycomb core; over 50 times stronger than standard aluminum paneling.
Our corrosion-proof all-aluminum construction resists dents, warping and delaminating. The weather and corrosion resistance of our gates are unsurpassed and will Virtually Last a Lifetime.
Commercial grade extruded aluminum alloy stiles and rails are mechanically fastened for superior strength. These components can be sized and configured to create an almost unlimited array of design combinations as well as individually true divided windows to match our elegant aluminum garage doors.
Our gates come standard with a clear anodized finish. Optional finishes include black anodized,dark bronze anodized, custom color powder coat finishes, a white Polycron III polyester finish and many Duranar painted finishes. These finishes are maintenance free and as rugged as the door's construction. Gates can also be field painted by others over our optional white Polycron III polyester finish to match your exact custom home finish or color.
Environmental Advantages - The aluminum used in the in the frames of our gates contain approximately 25% recycled aluminum, this is the maximum allowable to maintain both strength and quality assurance for applying a finish. All manufacturing scrap is recycled.