Raynor Door

FireCoil Optima
With a four-hour U.L. rating and 18-gauge steel slats, FireCoil OPTIMA fire-rated rolling doors are the best choice for optimum fire protection and maximum security.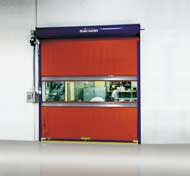 FabriCoil Basic
With many of the desired features of typical high-speed doors, FabriCoil BASIC traffic doors offer excellent durability and reliability at an affordable price. FabriCoil traffic doors are ideal for stand-alone high traffic application, in dock applications where security is not a concern, and as a door behind a door when security is important.

Duracoil
Designed for high security applications or oversized opening, sturdy 18-guage slats and structural steel guides combine to make this our strongest rolling service door.