Commercial Steel Garage Doors
High-strength steel garage doors have great value.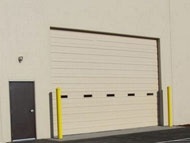 900 Series
The 900 Series Industrial steel garage doors are strong and are designed for applications such as warehouse buildings and other commercial or industrial buildings. Deep ribs are rolled formed into the door giving the door construction added strength. Doors are available both 24 and 20 gauge galvanized steel that are protected with a white polyester finish. Insulation and back skin options are available as well as windows and several glass options.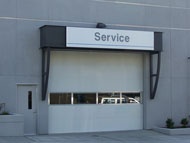 Therma Series
The Therma Series Commercial/Industrial insulated steel garage doors are rugged and beautiful. They are designed to have a sleek and appealing appearance with great weather resistance. Therma Series doors are made with a sandwich type construction, steel outer skins are formed and then pressure bonded to a polystyrene core giving the door maximum strength, a natural Therma Break and superior insulating efficiencies. Three insulating values are available - R10.4, R12, and R16.